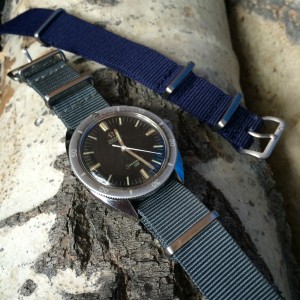 I received my father's 60's-era Omega Seamaster 120 when I graduated from college. He wore it hard for many years, and when it came to me, the stainless bracelet was already stretching and losing its ability to clasp. I found myself not wearing it as much as I wanted to, for fear of it coming undone and falling off. More than a decade later, I decided to remedy the problem by purchasing a NATO strap, but that still left the question of which to buy. For better or worse, NATO straps have become all the rage in men's fashion and there are now tons of suppliers. I settled on NATO Strap Co. for three reasons: good prices, wide selection, and most of all, free shipping. There's nothing that irks me more than a company selling a low-cost, small, unbreakable item weighing under an ounce, then trying to charge $9.00 for shipping. Kudos to NATO Strap Co. for not doing that.
I picked "Gray Matter" (Admiralty gray) and "Pacific" (navy blue) to give myself a color change option, both with brushed stainless NATO hardware since the brushed comes both stitched and welded. I went with the classic NATO style because I think it looks more appropriate on a vintage watch. The total came to $24.76, because NATO Strap Co. offers a discount when you buy more than one strap.
Straps arrived a few days later and went straight on the watch with no issues. Width measurement is spot on at 18mm. Construction seems to be on the mark with no loose stitching, and the stainless hardware is solid. I might prefer a slightly thicker buckle, but I've had no issues with it functionally speaking. The gray matches the patina on my Seamaster perfectly, and the navy is actually a little darker than the pictures suggest, which is a plus in my opinion. The strap webbing is well made and the holes have clean, smooth edges. One thing worth mentioning: If you live in a dry climate like I do, nylon webbing has no moisture to pick up from the atmosphere. This can make the strap feel stiffer and a little less comfortable, and it becomes evident during trips back east, where the humidity instantly softens up the webbing. Too much softening, though, is an indication that the webbing could stretch in water; not a good thing if you swim with your watch on. The NATO Strap Co. straps soften up somewhat, but don't seem to stretch too much. For whatever reason, the navy strap seems a little softer than the gray; not sure why.
A watch strap might seem like a simple thing, but simple doesn't always mean easy to execute. My father likes to order a burger on his first visit to a fancy restaurant for that very reason. His logic is, if you can't do something simple the right way, you have no business tackling something complex. He's also a cheap bastard, so that may have a lot to do with it, but there's a solid motive in there somewhere and I like the philosophy.
Overall I'd say NATO Strap Co. is doing it right. These may not be the fanciest straps on the market, but they hold up well to most I have seen. They look good, too.