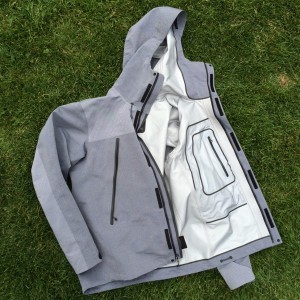 Being a juggernaut in the outdoor apparel industry has benefits. The North Face is the biggest name in technical outerwear, and while the thousands of Denali fleeces swarming college campuses have led to a reputation for being "soft" in the outdoor market, they generate the capital needed to research and develop new technology, some of which is pretty awesome. FuseForm, which debuted at ISPO 2014, is one of those new technologies, and it proves that TNF can push the envelope in both directions: innovating for the average consumer and the experienced mountain athlete alike. I have been testing the new Fuse Mountain Jacket ($325, available Spring 2015), and so far, I'm impressed with the jacket itself and the technology used to create it. But is it perfect? Not quite. Read on and see.
FuseForm actually consists of two construction techniques, one of which depends upon the other. The first involves weaving higher denier threads into low-denier fabric, to create reinforced zones without the need for seams, double layers, or laminate overlays. This technology is currently exclusive to The North Face, but similar fabrics are popping up in other industries; namely, footwear, where Nike Flyknit and the Adidas Flux Weave are two prime examples. The new woven fabric is what allows the second FuseForm innovation: fewer panels in the pattern, and a subsequent reduction in total seam count. In fact, the first jacket to use FuseForm–the Fuse Uno–was touted as being made from a single panel of fabric. Fewer seams and fewer reinforcing layers translates to lighter, more breathable, more packable, and (theoretically) more durable garments, and while the Fuse Mountain Jacket I have been testing isn't assembled from a single panel like the Fuse Uno, it has fewer panels and seams than any other jacket I own, and it definitely feels light and flexible, especially in the arms and shoulders.
The original Mountain Jacket of the 1990's was a straightforward, utilitarian garment designed to withstand heavy abuse in an alpine environment, and it was anything but lightweight. Whether or not the Fuse Mountain Jacket can stand up to the same abuse season after season remains to be seen; however, it seems substantial considering how light it is. So far, two months of summer storms, camping, hiking with a pack, and general wear-and-tear have left it looking brand new.
The woven texture of FuseForm is one of the most attractive features of the Fuse Mountain Jacket. It looks and feels like no other shell I've worn, and the fabric is softer than typical nylon or polyester plain-weave. This is a comfortable jacket to wear, and while it doesn't sport a name-brand third-party waterproof technology like GORE-TEX, the HyVent waterproof membrane has so far been exceptionally breathable.
Fit is right on the money for me. I am 5'10" and about 175 pounds, with a 41-inch chest and 34-inch sleeve. For my purposes, the Medium jacket fits very well with enough room for thin layering underneath. If I wanted this jacket to be my ski jacket, I might go up to a Large, but I don't see this as a ski piece; you can get the same FuseForm technology in ski-specific jackets (e.g., the Fuse Brigandine) with heavier duty fabric and ski features.
Construction is impeccable, as you should expect of The North Face these days. When you shell out the money for a Summit Series or other top-dollar TNF product, it's a good bet you'll see nothing but perfect seam taping, perfect stitching, perfect welds, etc. Political beliefs aside, if you're under the impression that "USA=good, China=bad" insofar as quality of goods is concerned, sorry, but you're wrong. When you drop a ton of cash on something made overseas and it falls apart, blame the brand, not the country of origin, because the deal with ALL manufacturing is this: you get what you pay for. The North Face spends millions in China and does a lot of quality control work. They get solid manufacturing as a result.
My gripes with the Fuse Mountain Jacket are few, but significant. First, despite the breathability of the fabric (and it is astonishingly breathable), I would not mind pit zips, and maybe a second interior pocket. Looking at a $325 retail tag, I think customers are going to expect features like that. Second, the attractive texture of the FuseForm fabric also seems to reduce its beading capability. While I have yet to get wet while wearing it, even in heavy rain, the average-Joe perception that beading = waterproofing means The North Face had better hope anyone considering the Fuse Mountain Jacket has some experience with technical apparel. Third, I would prefer that the designer had left off the overlay tape on the front pocket flaps, which takes the nicely hidden front pockets and makes them noticeable again due to the contrast. This brings me to the last gripe, and it's more of a philosophical issue: it seems The North Face is pitching this as a technical shell, but to me, it comes across as more of a sophisticated rain jacket.I certainly haven't yet found its functional limits, so maybe my judgment is immature, but does TNF think the average customer is prepared to spend $300-plus on a tech shell with no pit zips and no GORE-TEX, purely on the appeal of new fabric technology? Maybe I am naive in thinking people won't.
In my opinion, the Fuse Mountain Jacket falls into a gray area where the price and feature set don't quite match up at first glance. It's a great-looking jacket and it's awesome from a technological perspective, but realistically speaking, if you don't get the chance to try it on, you probably won't buy it. Does that mean I'm giving it back? Nope.