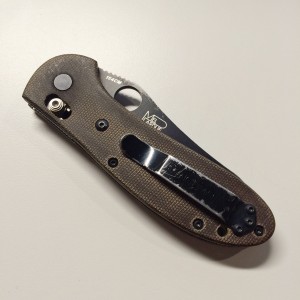 The Benchmade Griptilian would be an ideal everyday carry knife, if it weren't for one glaring issue. Are you ready to dive into knife nerd territory? 
If you've seen my review of the Griptilian, you know that one of the very few gripes I have about it is the cheap-looking, cheap-feeling handle scales on what is otherwise a well-designed, high-quality pocketknife. I understand the logic behind it: save money on the handle, and you can deliver a much higher quality blade and frame mechanism at an affordable price. Sound logic, however, doesn't make the knife more comfortable to use or look at. I'm not the only one who thinks so; there are posts on forums and other reviews discussing the same thing. A few small companies even specialize in custom scales, but they tend to make very limited runs in exotic materials at prices that almost double the knife's retail value. I'd been looking for a way to improve my Benchmade Griptilian without breaking the bank, but it wasn't until I saw a friend's Griptilian fitted with Cuscadi G-10 scales that I decided to pull the trigger.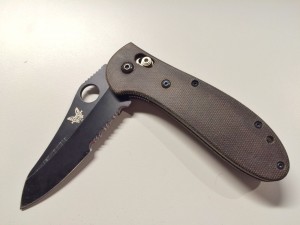 I didn't want the same scales my friend had, and I didn't want anything crazy like glow-in-the-dark or fluoro green zebra stripes. Googling and searching forums led me to igorded57, an eBay seller who offers custom scales with titanium frame spacers for $85. I jumped on a pair in green linen Micarta.
Micarta, for the uninitiated, was developed by George Westinghouse in the early 1900's for use in electrical insulators. It's made by impregnating multiple layers of paper or fabric with a liquid plastic resin, which is then pressed to squeeze out the excess. The remaining composite is machinable, non-conductive, exceptionally strong, and unique in texture, making it ideal for knife makers seeking a robust, workable handle material that's not metal, bone, or wood. Micarta comes in any number of colors; I requested my scales in olive green with a matte linen finish, and Igor (the man behind igorded57) responded that he could make a pair within a week.
They arrived in a few weeks, in a box covered in Russian stamps. I was pleased to discover the scales fit perfectly, and they came complete with a full set of new Torx screws and the machined titanium spacers mentioned above. Installing them was a snap, and the finished product is really something else. What was a standard-issue knife with a cheap-looking plastic grip now has the look and feel of a custom knife. To your average person, the difference is likely unnoticeable, which is kind of the way I want it. To anyone who carries a pocketknife, especially a Griptilian, the difference is just noticeable enough to cause comment.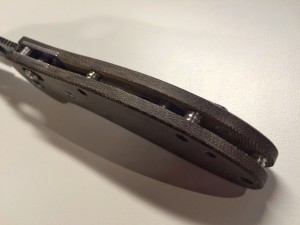 I understand that spending $85 to flair out a pocketknife might sound ridiculous. To a certain extent, I agree; it is, but no more ridiculous than buying a leather camera strap or getting your car's rims powdercoated or highlighting your hair or doing any other form of customization that people do to themselves and their possessions. I carry this knife every day, and now it feels special every time I use it.
If you are a knife guy (or gal), I probably don't need to explain it to you; you can see for yourself why I did it. If you've been thinking of doing the same but you've balked at the price or the uncertainty of ordering from some Russian guy on the Internet, I'm here to tell you it's easier than it looks and totally worth the adventure.