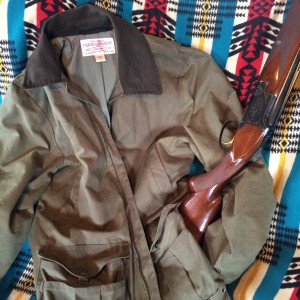 The new Shooting Jacket from Filson has the right combination of features, fabric, and fit, and a legendary American brand standing behind it.   If you're in a hurry, here's the bottom line: this jacket isn't perfect, but it is truly superb despite its few flaws, and it showcases the fact that, despite having shifted further and further into lifestyle wear, Filson still knows how to build great hunting and shooting gear.
Want to read a short novel about it? See below.
Filson, founded in 1897 during the Klondike Gold Rush, is a Seattle-based company best known today for making high-quality apparel, luggage and accessories, using low-tech, old-school techniques and materials. Filson's reputation for durability is thanks in large part to two signature fabrics: Mackinaw Wool (a thick, weather-resistant virgin wool cloth almost like felt) and Tin Cloth, a heavy, 15-ounce-per-yard waxed cotton twill intended to withstand the rigors of logging in the Pacific Northwest. Tin Cloth is astonishing stuff that almost has to be felt to be believed; it'll stop a train and it wears like iron, but until it's well broken in by years of use, it's about as comfortable as a cardboard box. It truly earns its name in cold weather, when the wax stiffens the cloth into something not unlike the sheet metal it's named after. My father has an old Tin Cloth coat, and even after decades of deer hunting and yard work, the thing will practically stand up by itself.
Recognizing the limited appeal of Tin Cloth, Filson created Shelter Cloth, a lighter (by comparison) 11-ounce waxed cotton fabric that still repels rain, dirt, and thorny brush, but is vastly easier to break in and more comfortable to wear in cold weather. According to Filson, Shelter Cloth is also more water-resistant than Tin Cloth thanks to its tighter weave, but I've yet to push this (or any Filson garment) past its limits.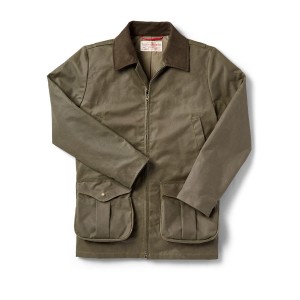 I have owned a Filson upland vest and shotshell bag for a few years, and I love them. They're the reason I'd been considering the Field Jacket, but the idea of shooting in Tin Cloth gave me serious hesitation. Every time I tried the jacket on, I had a hard time imagining mounting a gun without some difficulty…and that's in an air-conditioned store. Not wanting to jump on the Barbour jacket bandwagon, I nevertheless knew from experience that I could shoot in Barbour's oil cloth without restriction, and I reluctantly started to consider a Beaufort. But just before I pulled the trigger (sorry) on a Barbour, Filson launched the Shooting Jacket. It seemed like the perfect solution: a hunting jacket with similar features to the classic Field Jacket, but in the lighter, more comfortable Shelter Cloth.
Its similarity to the Field Jacket was the reason I bought it, but as it turns out, I'm keeping it for the things that make it different.
One word you won't find used to describe Filson is "luxurious;" all of their hunting, fishing, and workwear is built to last, but for the most part it's fairly basic, utilitarian stuff. Boxy, unflattering cuts for layering and freedom of movement, unlined wax fabric, and wool collar linings that seem almost intentionally rough. While Filson has updated cuts and finishes for their push into lifestyle garments, the real-deal utility wear has stayed true to the original patterns.
The Shooting Jacket, however, seems to fly in the face of Filson's traditional philosophy; it's full of little features that set it apart and elevate it to the next level. Most notable is a dry finish fabric lining that makes it not only warmer, but also frees it from the reputation the unlined jackets have for leaving wax deposits on under layers. Other details include the blood-proof lining in the rear game pocket, the kissing hems shielding the two-way front zipper, and the stretch-knit inner cuffs that seal out the weather and prevent the sleeves from falling over your hands. The hand pockets – which sit high to aid in carrying a break-action shotgun – are lined with flannel for warmth, and you'll find no wool-lined collar here; soft moleskin trim caresses your neck, and a snap-over tab offers extra coverage in foul weather. The waist pockets are genius for the field, with open outer buckets to carry loose shells and hulls, and inner flap-covered bellows pockets that can expand to hold a box of shells apiece. As further testament to the jacket's purpose, "action-back" shoulder gussets and recoil pad pockets in the front make for smooth operation in the field and at the range.
All that said, my favorite feature is the fit. At my size (5 foot 10 inches and 175 pounds), I fall between a medium and a large in many brands, and Filson is no exception. In most Alaska Fit jackets like this one, a medium fits my torso but is too short in the sleeves and tight across the shoulders, and a large, while providing ample room to move, makes me look like I'm wearing a poncho sewn from a WWII field tent. The Shooting Jacket is entirely different; thanks to the action back, it trades traditional Filson seamless shoulders for square shoulders (think of a sport coat) and a more tailored cut through the body. That translates to an overall trimmer fit that's still mobile and comfortable for shooting, driving, or fixing the fence when the deer knock it down (again). It looks smart both in and out of the field, and that's a huge selling point.
Is the Shooting Jacket perfect, then? No; nothing is perfect. The high-set hand pockets, intended specifically for easy shotgun carry, are high enough that inserting your hand while carrying a gun becomes awkward. The collar, while it provides excellent wind protection, is a bit too broad when folded down. And while I appreciate the functionality of the hidden zipper, I would prefer a more traditional storm flap with snaps or buttons. Finally, if you're seeking a lightweight jacket, this is not it. Some would call it heavy; I myself prefer "substantial." Either way, you're looking at a solid jacket that, while designed for movement, is neither packable nor incredibly breathable. Not a big deal at the skeet range or tracking pheasants through the brush on Maryland's Eastern Shore, but likely a dealbreaker if you're hunting chukar here in Utah or in Nevada, where you might easily cover a dozen miles and a thousand feet of elevation in a day. But then again, that's why Filson makes a whole range of jackets and vests; they didn't make this jacket to meet every need.
The few complaints above are worth mentioning, but they're minor to me. I really like the Shooting Jacket, in part for its function, in part for its looks, and also because it renews my faith in and affection for Filson as an authentic outdoor and sporting brand.
That brings me to a philosophical conclusion, in the form of a request: should anyone from Filson happen to read this, please remember that there are customers like me, whose fathers and grandfathers you served for decades, and who will remain after the fascination with American heritage brands has long faded. It seems more traditional hunting, fishing, and workwear drops from the Filson catalog every season, replaced by casual lifestyle pieces wrapped in a thin veneer of utility. I'm not saying that the fit couldn't use some updating, or that I think Filson should remain petrified in time, recreating the same patterns over and over. The Shooting Jacket is proof that new products can equal or improve upon the old. I'm saying that function is as much a hallmark of Filson as its history, and when substance takes a distant second to stylish silhouettes, the brand suffers a blow to its reputation that can turn faithful customers into antagonists. Look around, and you'll see historic brands being seduced by fast fashion, betraying the very incorruptibility that made them ideal standards for the heritage trend. I believe Filson can ride this trend successfully, and in doing so gain a new audience without losing its identity. Whether or not that happens, only time will tell. In the meantime…
"Might as well have the best."