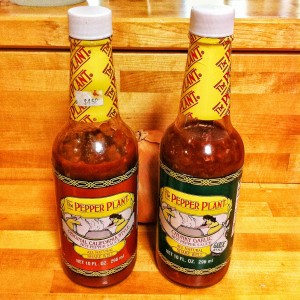 My father, the self-appointed King of the Hand-Me-Down, gave me a bottle of Pepper Plant as a stocking stuffer last Christmas. A friend of had given him two bottles, and in his unending generosity, old Poppa Bear saw fit to split the booty and pass one on to me, but not without telling me first that it was "very hard to come by" and "only available in one store in California."
Well, I'm happy to report two things: one, this sauce is as good as they come, and two, Safeway Markets in California – at least in the Reno-Tahoe and San Francisco area – now carry Pepper Plant in the hot sauce section, prominently tagged as "LOCAL" for those looking to take home a piece of the Golden State.
Pepper Plant comes in a number of varieties – Original, Chunky Garlic, Habanero and Chipotle, as well as a Seasoning, a Salsa, and a BBQ sauce – but I have only tried the first two, as they were the only ones available to me in the store. Both the Original and the Chunky Garlic have strong garlic tones and a tangy, vinegary aroma that comes through in the flavor as well. Neither sauce is too hot to use regularly; the heat index is somewhere along the lines of other jalapeno-based sauces like Crystal or Louisiana, but the flavor beats both (and any jalapeno-dominant sauce I have tried). The Garlic style is REALLY garlicky, so steer away if you don't want garlic to be the dominant flavor. Personally I think it's great as an alternative, considering I use the Original Pepper Plant on almost everything and sometimes need a change of pace. There's also a spice note I can't place in both versions, and for me, it's that flavor which sets these sauces apart from the rest. The sauce itself is not tomato-y at all, but I would almost describe the missing "mystery" flavor as a subtle smoky tomato/mustard flavor, if that makes any sense. Before writing this, I looked on Amazon to see if any of the reviews could pick it out; none went further than garlic and chili, although almost every review states what I believe: this sauce is like crack. I put it on eggs, pizza, chicken, burgers, in soups and chili, and even occasionally on chips; it's that good. I have used it as a wing sauce by following the recipe on the back, and it's pretty good (although I would suggest cutting back on the butter and increasing the sauce percentage). The chunkiness and strong non-heat flavors make Pepper Plant almost passable as a salsa, although if you were to use it in typical chip-dip amounts I think the heat would get pretty intense pretty quickly. One review I read made a big deal about how salty this sauce is. I can't say I had noticed it before it was pointed out, but there is a saltiness to Pepper Plant that you don't find in traditional "pepper-only" sauces like Tabasco, Crystal, etc. However, if you're a hot sauce nut like I am, and you can appreciate the differences between pepper-dominant and spice-dominant condiments, I think you will like Pepper Plant and you owe it to yourself to try it. I make it to California at least two or three times per year, buying three or four bottles every time. If you can't get there, Pepper Plant is available online as well.