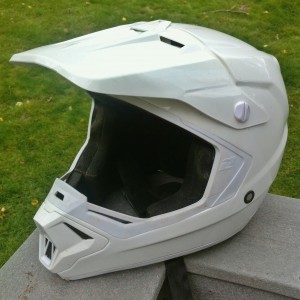 I had just started riding dirt bikes, and was borrowing a friend's spare SixSixOne Flight helmet (thanks, Ross) which I liked very much. I knew it couldn't last – I'd need to buy my own helmet at some point – but at least I had found one that fit well and looked good. Then I learned that not only had the Flight had been discontinued, but that SixSixOne no longer made helmets. My heart sank as I began searching for something else. Eventually, I spoke to a friend who works for ONE Industries; he told me that ONE is the parent company for SixSixOne, and that the helmets are essentially the same. I figured the top-end ONE Industries Gamma helmet should therefore be similar to the Flight, and bought it sight unseen. Am I happy with it? Yes and no, as you'll discover.
Turns out the Gamma and the Flight are similar…sort of. You can tell from the styling that these were likely made by the same designer or design team; the Gamma is a good-looking helmet, especially in the all white "cue ball" color. There's no branding on it whatsoever, aside from the "O" logos molded into the plastic around the eye hole, and that is awesome. I am not a billboard.
The fit is similar between the two helmets, size-wize. The crown of the Gamma fits almost exactly like the Flight, which is great. The padding inside seems plush and the head shape is a good match for me. However, the similarities stop as you move down, because the cheek pads in the Gamma are thinner than those of the Flight, and seem a bit lighter, like they are made from a cheaper quality foam. This, keep in mind, is compared to a helmet that had been heavily used over the last few years. If the brand-new pads in the Gamma feel thin now, who knows how they will feel after a few seasons? I called ONE directly to see if I could get thicker pads, and the rep I spoke with said he actually runs Medium pads in his Large helmet for this exact reason. Unfortunately, however, they're not interchangeable (the snaps are configured differently between sizes) and the cheek pads are not sold individually, so I wasn't able to get a set for myself.
Side note: that should tell a company something, in my opinion. If your own employees are running fatter-than-stock pads in your helmets, you might want to address the issue or at least offer swappable kits for those of us without monkey cheeks.
As it stands, the Gamma feels a bit looser than I'd like in the cheek/jaw area, forcing me to tighten the strap a little more than I'd like…which brings me to a second issue: the strap.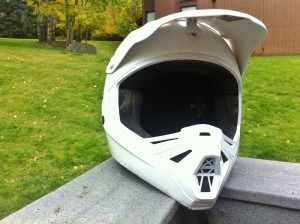 There's nothing visually wrong with the Gamma strap. It fastens like any average D-ring full-face strap, looping back through two rings, with a snap to keep the loose end from flapping around and a pull tab on the exposed ring to help loosen the strap. Despite the tab and the standard design, I find the strap very hard to tighten and even harder to get loose, especially with gloves on. When you're trying to get your lid off in 92-degree heat and you experience that "Holy shit, I'm gonna die of heatstroke" feeling, a few extra seconds feel like an eternity. Perhaps I got a bad batch of strap material, or there is something I can't see, but I also own a Bell Custom 500 and it has never had the same problem, even right out of the box. It's definitely my biggest gripe with the Gamma.
Three more small issues make me think that I likely won't be buying another ONE helmet:
1. The chin bar sticks way out in front, leaving a big gap for dust and roost. Maybe this is a new style, but the Flight chin bar mated nicely with the nose protector on my goggles, creating almost a snorkel seal that really kept dust out.
2. My old awesome Scott Desert goggles don't fit. Maybe all older goggles won't fit, and that's a real possibility, since mine are at least 4 years old. Luckily I have a pair of Oakley Crowbar MX's and they fit fine. I just like those Scott goggles a lot and it bums me out that I can't use them.
3. There seems to be very little airflow through this helmet. Two tiny vents in the crown, two in back up top, and a couple of vestigial vents at the bottom. Despite buying an all-white helmet, things get hot pretty quickly and I wish there were more circulation.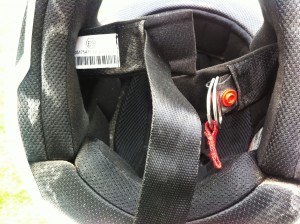 On the plus side, the Gamma is a great looking helmet, it's pretty light, the visor is solid, the fit is decent, and the finish is great considering it costs half (even less with my discount) of what a comparable Arai or Shoei would run. I'm aware helmet fit is a very subjective thing, and that others may not fit the overall shape. If that were the case for me, even in a minor way, I would try to sell this helmet and get another. However,  since I don't have a ton of cash lying around and the issues are relatively minor, I will keep it for now. If you can get a good deal on one and you don't mind the problems I've described, go for it.