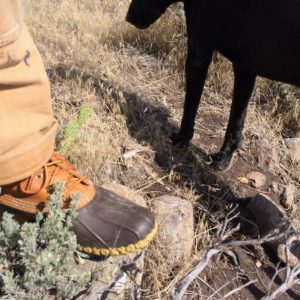 I was raised on Bean Boots back when they were still called Maine Hunting Shoes, and they've been a staple asset in my closet since Umbros, Sambas, and Clearly Canadian. Until recently, I had two pairs: the ten-inch boots with Thinsulate in the lowers, and the unlined, low-top mocs that we call "duck shoes" in Pennsylvania. I can't say enough about how useful they are if you live in a rainy area (like the east in any season other than winter, and much of winter when it's not an "ice storm"). Duck shoes are a godsend for anyone who doesn't want to walk from the train station to an office in nice shoes when it's pouring out.
Out here in Utah, they're not so much a godsend as a puzzlement. The tall boots are too hot to wear in the spring, but not warm enough to wear in winter. The low-tops, on the other hand, get overwhelmed by anything more than a shallow puddle.
Enter the six-inch Bean Boot. True to form, I actually bought these for my girlfriend when she expressed displeasure at her endless collection of tall winter boots being "too much for right now." She loved them so much that she bought me a pair the following year, and that's when I found out how ideally suited they are to Utah's fall and spring weather.
They're short enough to tuck under pant cuffs, but tall enough to shovel the driveway after early- and late-season storms, clean up a wet and muddy yard in the spring and fall, and hike the sagebrush trails near my house. They aren't as supportive as hiking boots, but for daily pull-on-and-go duty during Utah's brief "mud season" they're pretty much perfect.
Anyone who has a pair can tell you they run big; I wear one size down from my normal size, with plenty of room for medium-weight wool socks (Darn Tough; another east coast staple). But here's the real secret: sheepskin insoles. For some stupid reason, LL Bean doesn't highlight them on the same page as the boots, but they really should. Go up a size from your Bean Boot size (i.e., your regular shoe size) for the right fit, and just toss the foam rubber insoles that come with the boots. You'll thank me.