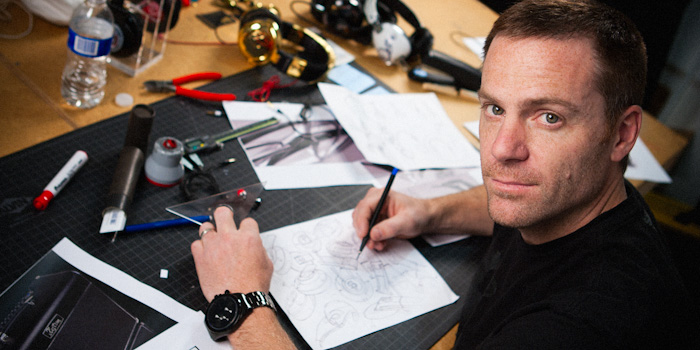 I interviewed the Industrial Design Director at Skullcandy, Pete Kelly, to review the development of their revolutionary and very successful Fix In-Ear earbud. Here's an excerpt from the interview:
SK: Good enough. So, when did the FIX project go from someone's fantasy to your reality?

PK: It started in 2009, believe it or not. We had a solid OEM in-ear offering and we had the CHOPS, but we wanted to design a true "bud" in-house. Earbuds are the best way to listen to music while retaining peripheral awareness, basically to let you hear what's going on around you; with our roots in action sports, that's a huge factor.

SK: Take us through the initial design process.

PK: It starts with establishing a design language. I was looking for inspiration in custom cars, motorcycles, intakes, exhausts, carburetors, things that I knew from growing up. I'm a huge fan of things that incorporate function and style, so I said, "Let's find a way to make a ported speaker housing where the porting is part of the style, with construction nobody has ever used. Something where, if the Skullcandy branding isn't even present, it will still be recognizable as a Skullcandy product.

Standard buds fall out, plain and simple. We're an active company, and the consistent complaint we heard was that people had to stop and fix their earbuds in the middle of a run or a skate session. So the question was, could we design an earbud that stays in your ear? So we looked at all of the sketches and said, that one looks like it would hook into your ear the best. Let's start from here and work on a solution. That's when it became the FIX.
It truly is an awesome earbud, especially for highly active pursuits. While I generally don't ride with music, I do run and ski with buds, and these are the best I've found for those purposes. Read the rest of the article here: The FIX: Start To Finish or download it below.