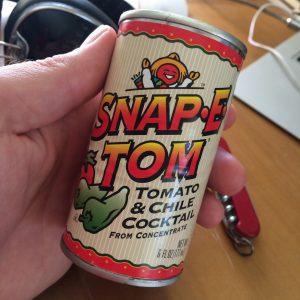 "Out West, there's a legendary character no taller than a horse's belly. They call him SNAP-E-TOM."
If that doesn't make you want to try some, nothing else I say is going to matter. It's the first line on the back label of a can of Snap-E-Tom, and I guess it's meant to pitch the green-chile-spiced tomato drink inside as somehow the stuff of legend. Doesn't matter that it makes no sense, because it just adds to the flavor of the whole package; after all, why would you drink boring old tomato juice or V8 when you can drink a concoction brewed up by a legendary small-statured Mexican man with the face of a tomato? Or a small tomato man dressed in traditional Mexican clothing? Not exactly sure what they're going for.
Anyway, the contents of the can itself are what's important here, and I can say they stand up to the legend. Snap-E-Tom brings a solid, salty tomato flavor with a little smoky jalapeño spice, not quite enough to stand on its own as a mixer, but a perfect base for a Bloody Mary or michelada, ready for customization with Maggi, Worcestershire, horseradish, pepper, Tabasco, or whatever else you use. Ingredients are basic (this is good): tomato paste, chile puree, salt, onion puree, and citric acid. It's not a Bloody Mary mix, and that's really why I like it. Another reason to like it is the small size; you can buy it in a 12-ounce can but I prefer the mini 6-ounce version, because it makes about two strong Bloodies or one big 'chelada. No waste, very packable.
I also love the label, and the made-up legend, and the name. Might be hard to get in your area if you don't live out West; I've only seen it in Utah, Colorado, Nevada, and California, but if you see it pick it up and try it out. Live the legend of SNAP-E-TOM!