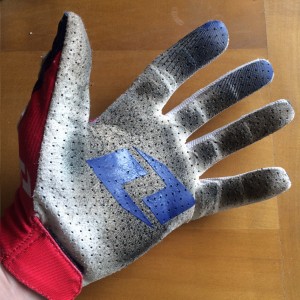 I don't know what happened, but at some point someone decided mountain bike gloves should stop having adequate ventilation in the palms. Here in Utah, 90 degrees is standard issue all summer long (but it's a dry heat!), and zero ventilation is a recipe for glove stank, clammy hands, and blisters.
For years, I wore the first-generation Unabomber glove from Fox, with mesh panels in the palm. When you took your hands off the bars, you could actually feel the breeze on your palms…until Fox changed the design. I switched to Fox Digit gloves because I had grown used to the Fox fit, but unlike the Unabomber, they only had a few tiny holes in the fingers as ventilation for the whole palm. When they'd get to smelling, I'd soak them in OxyClean and have about a week of riding before they'd get funky again. No bueno.
So this summer, I ditched Fox and picked up a pair of these Vapor gloves from a friend who reps One Industries. I even paid for them. Here's why.
PROS:
They fit great. The back panel fabric is super stretchy, so the fit stays tight across the back of the hand but flexes for unrestricted braking and no cramping.
They're comfy. The stitch-free cuff has no trim to chafe or cut into your wrists, and the palms are seamless so they don't create blisters.
They're easy to put on and take off. Stretch closure gloves are comfortable, but have you ever tried putting them back on midway through a ride? It's like getting a dog in the bathtub. The Vapor has a Velcro closure, which means you can take them off to unscrew a valve or pick your nose, and then get them back on before the sneakers-and-tube-socks crew you blew past can leapfrog you.
They're cool as cucumbers in hot weather, and they don't stink, because…
THE WHOLE PALM IS VENTILATED. Check it out: fully perforated across the entire palm and fingers. Should this be the first reason? Probably. Definitely.
They're called the Vapor G-Ripper, which sounds like a BMX bike I would have wanted in the early 90's.
They're red, white, and blue.
You can (kinda) use your phone with them on. No Touch ID, obviously, and texting is a struggle, but you can change tracks, answer a call, etc.
They're surprisingly durable. Over the years, I'd gotten used to wearing burlier gloves, so the Vapors felt flimsy. I thought I would go through them pretty fast, but they're now in their second season and all I've done is rip the palm a bit in a crash. Granted, I'm old, and I try not to crash…much.
CONS (I'm really digging here):
Black grips turn the blingy white palms black pretty fast (see picture). That should be pretty obvious, though; white gloves are gonna get dirty, quickly. If you run colored or white grips, it might not be an issue.
They don't offer any impact protection. The palms do offer some abrasion protection, but if you go down, your hands are gonna suffer. Then again, watch any bike movie from the last couple of years and you'll see 18-year-old pros in tight jeans destroying gnarly sections and hitting road gaps with no gloves at all. So sack up, buttercup.
That's all I can think of. 9-to-2 in favor, and the ayes have it. True, gloves are finicky, and it's possible the Vapor G-Rippers won't fit your mutant hands. But you should at least try them to find out. Get a pair of these gloves. If you don't like them, send them to me and I'll put them to good use.