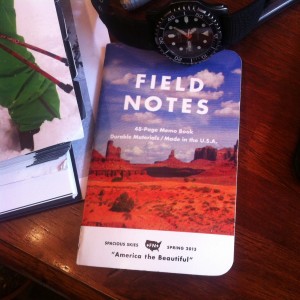 Man, I didn't want to like Field Notes. These little notebooks are the peripheral hangers-on to the whole "heritage" trend at the most basic level. They can't be expensive to produce, yet a three-pack costs $9.95, so I'm guessing the breakdown is something like: $0.95 = cost of production, $8.75 = overhead, primarily mustache wax and organic coffee beans. Then again, maybe I'm just jealous… because despite my reluctance, I can't help but notice these little bastard booklets are not only charming, but useful.
I got my Field Notes for free as a gift, and having been released from the financial obligation, I thought I could offer an objective review. The bottom line is that they are dang handy, especially if you are a writer like I am. They're the perfect back pocket size, and they're bound well so they don't fall apart when you use them like you want to use them (often, indoors, outdoors, drunk, asleep). Whip one out at a meeting and you look not only industrious, but "with it" because you're using Field Notes like the cool kids. The paper writes well; I've used pencil, ballpoint, gel, rollerball, marker, all the things. There are little tongue-in-cheek blurbs and addendums and lists imprinted on the inner covers that detail just how special the paper and printing processes are to make them. The cover design is cool; my America: The Beautiful edition features national park photos that have been printed "a little out of register on purpose," i.e., slightly blurry in an old-school way, so it feels like I'm writing in the margins of a 1950's nuclear fallout handbook next to the Duck And Cover procedures. It's all very infuriating, if only because you wish that you'd thought of it first. My only gripe at the moment is that I wish they offered alternating blank and lined pages, so I could draw little doodles while clients talk about "direction" and how to "market without marketing."
Will I buy another set of Field Notes notebooks? Well, I honestly hope I'll be able to convince someone to make a custom edition as a promotional giveaway, because if I keep getting them for free, I will keep writing in them. Whether I'll actually put my hard-earned cash on the line for some rather ridiculously overpriced notepads, only time will tell. There are cheap notebooks out there that cost less and work just as well, I'm sure…but do I have time to research them all? Until that time, I will use these for what they are and keep my head on straight. If I overhear you congratulating yourself for acquiring a three-pack of folded, stapled notepaper, know this: I will cut you.