UPDATE: It seems Costa Del Mar is reissuing the Grand Catalina for 2013. Stay tuned for details and pictures (see below).
I thought it would be appropriate for the first gear review post to be a lament: On The Loss Of The Grand Catalina.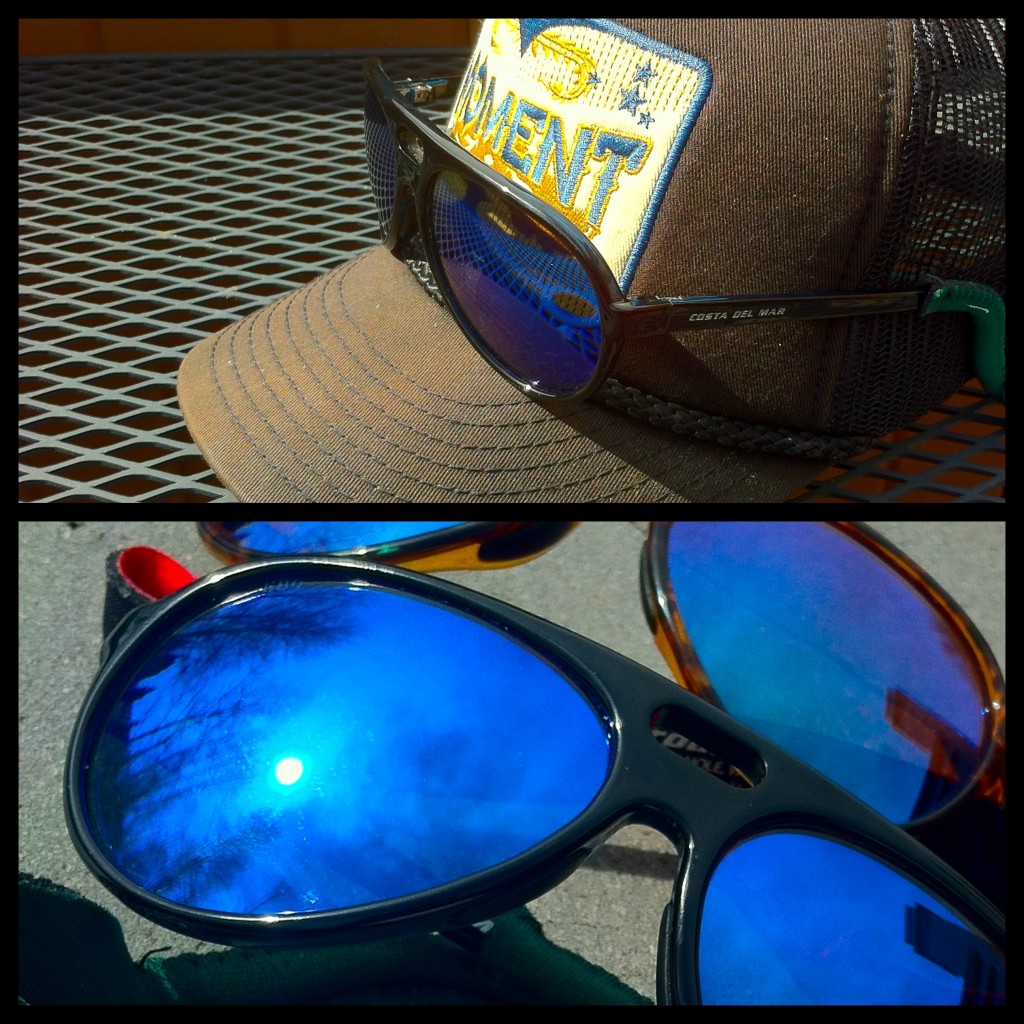 I heard that Costa Del Mar was discontinuing these after I'd owned these sunglasses for about a year, the reason being due to a change in the base curve of all their lenses. I immediately picked up a backup pair as insurance. They're that good. Costa Del Mar makes great sunglasses, period; ask any fisherman. Ask the Swamp People.
Tech: My Grand Catalinas have the Costa 580 polarized glass lenses (blue mirror over gray in the black frame, green mirror over copper in the tortoiseshell), which is Costa's top offering. They're astonishingly clear, and the polarizing filter seems more effective than my old Ray Bans without any loss of definition. Could be the additional mirroring and anti-glare coating, I'm not sure, but they cut glare on and off the water like a knife. The green/copper has to be one of the best fishing lenses out there. Colors appear totally neutral through the gray lens, while the contrast-enhancing copper lens has a rosy tint that pulls up oranges and greens very well, making them great for shooting and wearing in the autumn. The frame and hinges are pretty robust; I've had the tortoiseshell pair heated and reshaped after leaving them on a hot dashboard and then stuffing them in a case last summer, but other than that, no issues. The anti-slip nosepads work pretty well, but these are on the heavy side of most shades, so I tend to keep them Croakie'd up for security. Can't get another pair if I drop them overboard or off a cliff.
Looks: In a word, classic. I have an (incredibly handsome) oval  face that aviators seem to suit, but these look better than most. The lenses don't teardrop down as much as the Ray Ban aviator, and they are a tad wider, which looks good on a dome like mine. The green mirror shifts between green and blue, and it doesn't pop as much as Smith's green mirror which, to me, looks gimmicky. The blue mirror, however, is the showstopper. It's a bright blue-purple that really complements the black frames. In my opinion, they stand out without looking too desperate for attention. Anyway, if I didn't like how they looked, I wouldn't have picked up a second pair.
Cons: They're heavy, which can make them tough to wear for extended periods (e.g, long-distance driving), and risky to wear without some sort of strap during activity. They arrive in a soft neoprene case, which seems like a cheap way to deliver such high-end eyewear, especially when other Costas come in hard shell cases. And the biggest con is that they're not made anymore, which is a true shame. I take very good care of mine, but I live in fear of the day I lose, break, or severely scratch them. If you find a pair in a shop somewhere, snatch them up – you won't regret it.
UPDATE: The Grand Catalina is back! And we have (of all people) Kenny Chesney to thank, because it was a collaboration with the country star that brought about its return. You can now get Grand Catalina in some new colors and a range of lenses, including the top-tier 580. Unfortunately, they didn't bring back the black or tortoise frames, and you can't get the mirrored 580 lenses, but hey, you know what they say about beggars. Anyway, find them here and join the ranks! If I had to pick a pair it'd be the Coconut Fade/580 Gray: